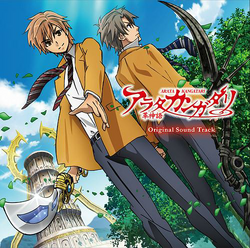 Arata Kangatari Original Soundtrack is the soundtrack album containing music from the anime adaptation of Arata Kangatari. All tracks have been composed and arranged by Kow Otani.
Track listing
Edit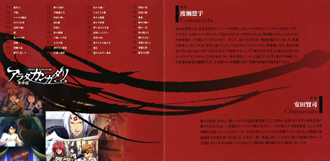 Himeou (秘女王)
Tranquility (平穏)
Festival Ceremony (マツリの儀式)
Little Torch (小さな灯火)
Healing Relief (安堵の癒し)
Bonds (絆)
Busy Street (賑やかな街)
Threat (脅威)
Sense of Nostalgia (望郷の念)
Despair and Sadness (絶望と悲しみ)
Growing Anger (膨らむ怒り)
Mysterious Power (不思議な力)
Decisive Battle (決意の戦い)
Approaching Enemy (迫る敵)
Awakening (目覚め)
Fear of Death (死の恐怖)
Confusion and Anxiety (戸惑いと不安)
The Great King's Vessel (大王の器)
Boiling Tension (沸き立つ緊張)
Emotion of Justice (正義の感情)
Unfulfilled Feelings (届かぬ想い)
Revived Wound (よみがえる傷)
Rising Beat (高まる鼓動)
Peaceful World (静かな世界)
Overwhelming Anxiety (押し寄せる不安)
Disgrace and Irritation (屈辱といらだち)
Heavy Trace (足取り重く)
Heart of a Rising Oni (湧き上がる鬼の心)
Escape (逃亡)
Unavoidable Destiny (逃れられない運命)
Purifying Light (浄化の光)
Decisive Journey (決意の旅)
Transformation to Oni (鬼化)
Battle of Gods (神々の戦い)
Warm Light (暖かい光)
Mother's Warmth (母の温もり)
Untainted Heart (濁りなき心)
Peaceful Life (安穏な暮らし)
Magnificent Dance (華麗な舞)
Grand Nature (雄大な自然)
External links
Edit
Ad blocker interference detected!
Wikia is a free-to-use site that makes money from advertising. We have a modified experience for viewers using ad blockers

Wikia is not accessible if you've made further modifications. Remove the custom ad blocker rule(s) and the page will load as expected.