Suzukura (スズクラ, Suzukura) is a place where people work to earn money called Hanafuri. It was located in Mitsuhame and was lead by one of Yorunami's Zokushou Hiruko and Himoroge.
Design and Laws
Edit
Suzukura had many exotic buildings and different designs that are been placed by various of superstition. Outside of the main building, there are circular buildings and markets from the entrance on the streets. The entrance is where you will earn your achievement tokens to pay 10 silvers in order to enter and leave Suzukura.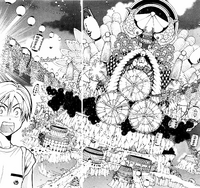 Inside of the bathhouse-the main large building of Suzukura piled up with workers that had been received orders from the Zokushou earning their money as they can.
Ad blocker interference detected!
Wikia is a free-to-use site that makes money from advertising. We have a modified experience for viewers using ad blockers

Wikia is not accessible if you've made further modifications. Remove the custom ad blocker rule(s) and the page will load as expected.